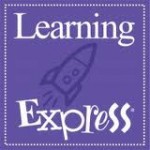 Accessing Learning Express Library just got easier.   Now with 10 easy steps you too can have access to Learning Express Library. With access to this awesome service, you  can improve job search skills, prepare for career certification, raise college entrance test scores, and improve 21st century basic skills all possible with just the click of a mouse.
1. Logon to www.LearningExpressLibrary.com
2. Click the "Register" button under the "New Users" section at the bottom of the page.
3. Enter your 5-digit zip code in the Username field plus your 7-digit phone number, excluding the area code, spaces, or dashes (for example:
660101234567). Your username must be a total of 12 numeric characters.
4. Create a password (passwords must be at least 6 characters long, they can be alphanumeric, and they cannot contain spaces)
5. Verify your password
6. Enter your email address (this is optional but recommended for password retrieval in the event that you forget your username or
password)
7. Click the "Register" button
8. Choose "Kansas State Library" as your subscribing institution
9. Click the "Continue" button
10. Print/save your registration confirmation page
"For future logins, you will enter the LearningExpress Library site as a "Returning User" using the username & password you have just created."